Brunch is my favorite meal of the week. By far. And, since Dallas has so many great options, I make an effort to get to at least one new brunch spot every two weeks.
But, there are always the ones I go back to time and time again. My favorite spots for brunch in Dallas. A handful of places at which you can almost always find me (and for hours on end). Keep reading for my full list… and what to get at each place!
PS: wanna just skip ahead to enter my amazing giveaway? Click here!
Ascension is by far one of my favorite places to grab brunch in Dallas. Since there are two locations (each about a mile from my house), I am seriously at Ascension at least twice a month.
Not even joking.
Ascension is also great for lunch and afternoon drinks, but the brunch is a must-try!
What to order:
Above all, I recommend getting Ascension's Avocado Toast. OMGee, y'all. It comes with two poached eggs, red peppers, and a bunch of cilantro. Typically, when I order it (which is just about every time I go to Ascension), I get it sans peppers and with a half-portion of cilantro. It's delicious: a must-try!
My second favorite item at Ascension is their Ricotta and Berry Hotcakes. Y'all. Y'ALL. Yum.
Boulevardier is my favorite place to take out-of-towners. It has such a cute atmosphere (and Bishop Arts District is endlessly adorable and fun on a weekend). And their French-inspired menu is positively delicious.
What to order:
Four words: House-Cured Lox Benedict. Served with caviar. Hells yes.
Boulevardier's French Toast is also incredible. Every time I go, I make my dining partner order it. So I can eat it off of their plate. Because duh.
Obviously, you can't have brunch without drinks. I highly recommend trying Boulevardier's mimosa with a shot of St Germain Elderflower. Trust me.
Right down the road from Boulevardier in Bishop Arts District, we have Oddfellows. It always has a wait. Because it's legitimately amazing. Between the food and the frosé, it's kind of the best.
Since there is always a wait, I recommend getting there early (aka before you start to get so hangry you turn into the worst combination of Oscar the Grouch and Cookie Monster).
What to order:
Aforementioned frosé. Yep. Frozen rosé. It's amazing.
My other favorites include the Kale Artichoke Dip (so good), the Fried Chicken & Waffle, and Oddfellows' Migas Omelette.
I finally tried Henry's Majestic after far too many months of hearing wonderful things and never going. So then I went. And it was so good.
One thing I love about the restaurant is the vibe: it's always busy and has a great energy. Plus that sparkling bar is AMAZING.
What to order:
Avocado Toast. It comes with a drizzle of olive oil and sea salt and it's one of my two favorite sharable plates to get for the table. The other? Henry's Shrimp & Grits. It has bleu cheese and hot sauce and is the perfect mix of spicy and savory.
In terms of mains, Henry's Majestic's Charred Tomatillo Chilaquiles, the Black Cherry French Toast, and the Chicken & Waffles are seriously the best.
But those all hold second fiddle to the sparkling bar: you get your choice of sparkling wine and then you can add any combination of juices and booze-soaked berries and fruits. And an order comes with two glasses of sparkling wine. Which is positively thrilling.
And you know what else is thrilling?
With Valentine's Day approaching, I decided to team up with some of my favorite bloggers and bring you a Nordstrom Giveaway. One lucky reader will win a $1,000 gift card to Nordstrom. To enter, please use the widget below.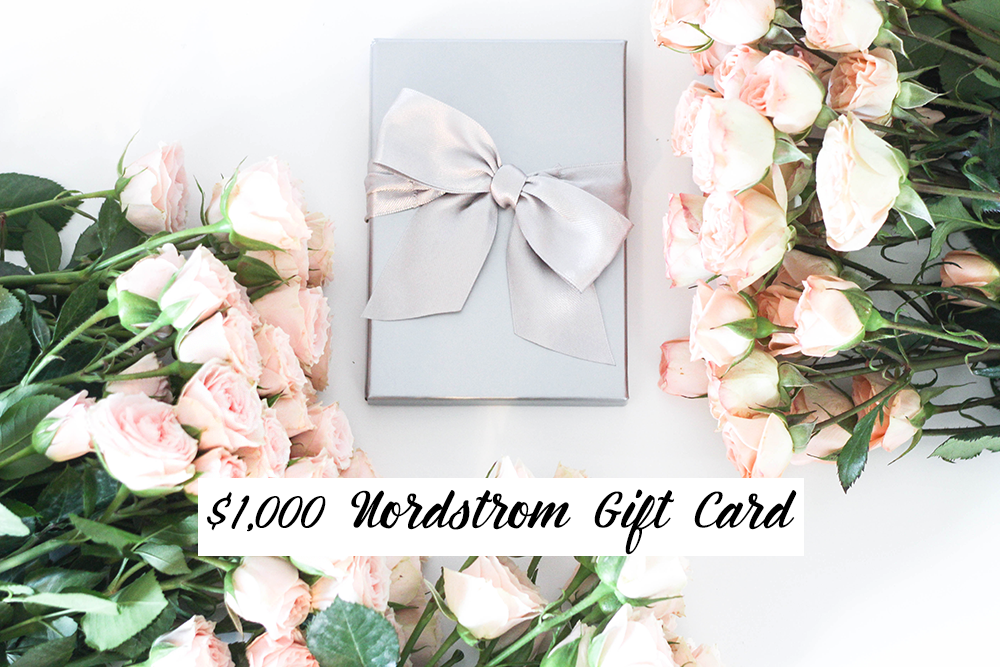 Money Can Buy Lipstick | Mash Elle | Ashley Brooke Nicholas | Diary of a Debutante | Sunshine & Stilettos
Cameron Proffitt | The Styled Fox | A Lo Profile | Visions of Vogue | Inspiration For Moms
The Girl In The Yellow Dress | By Brittani Lauren | A Vintage Splendor | Coming Up Roses | xoxoBella

Style in a Small Town | Sunflowers and Stilettos | Karlie Rae | Audrey Madison Stowe | Nines to 5
Laura Wears | Blush & Blooms | Fashion and Frills | Here's The Skinny | Adored by Alex

Sunsets and Stilettos | Ashley's Passion for Fashion | Coffee Beans and Bobby Pins | Sophistifunk | Life Lutzurious
My Life Well Loved | January Hart | Glitter & Spice | The Blue Hydrangeas | A Gallon of Glitter

Stilettos and Diapers | Styled Adventures | Toreys Treasures | Petite Style Script | Marvelous in the Midwest
a Rafflecopter giveaway

You are sure to discover some amazing bloggers you may not already be following! Good luck!